Ann and Drew
September 13 2008

Ann and Drew's Slideshow
Ann and Drew's Full set of pictures will be posted here

About time for a new wedding, wouldn't you say? Ann and Drew were married at Trentadue Winery in Geyserville CA, on September 13 2008. Something that really struck me about Ann and Drew's wedding was the sheer number of people who love them. Their wedding was attended by around 250 people: I've done bigger weddings, of course, but with Ann and Drew's wedding you could tell that every single one of those people was like family to them. The warmth and connection in this crowd was huge.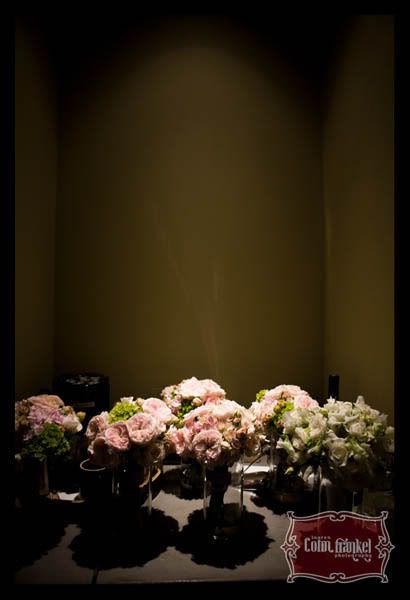 Ann wore a simple, Monique Lhullier halter top dress with a sexy open back, her hair down and adorned by two simple white flowers. I love retro fashion and to me she looked very 40's femme fatale, which was an unexpected surprise to me (from the beginning I pictured her in a more classical/romantic, spanish lace kind of dress for some reason, kind of like the one Erica wore in our bridal session at Flourish) but it suited her perfectly.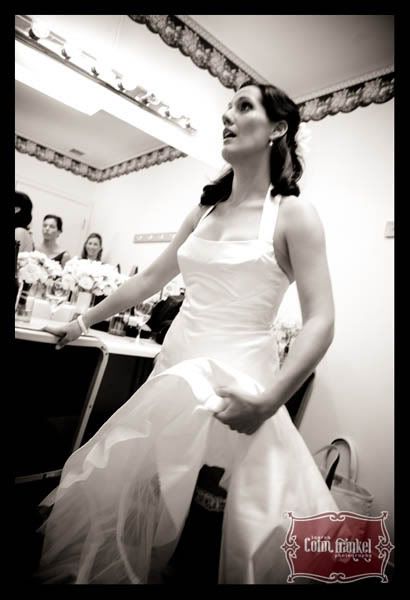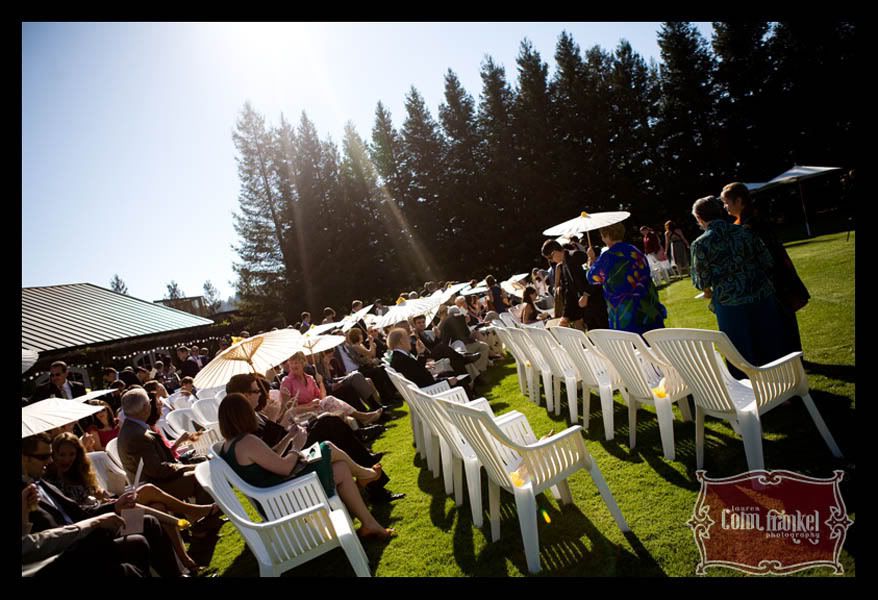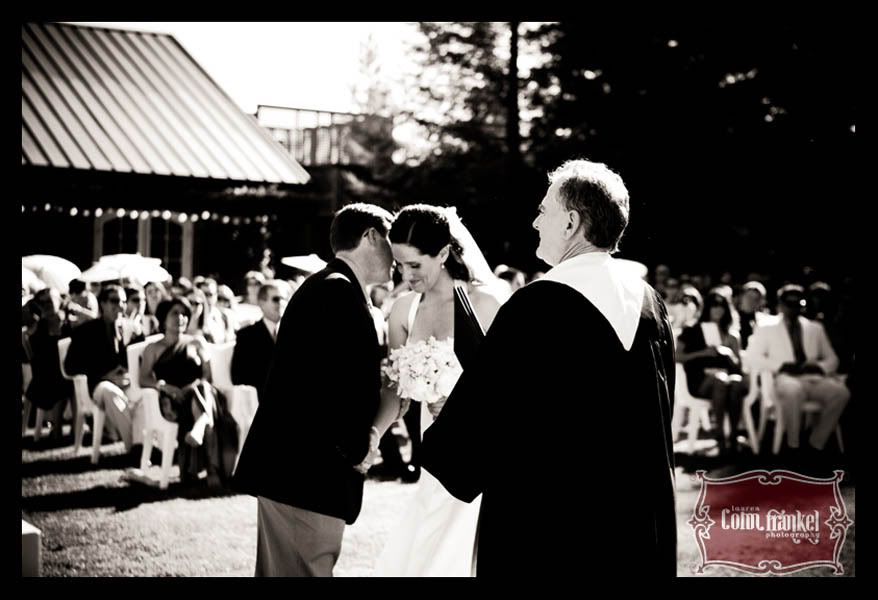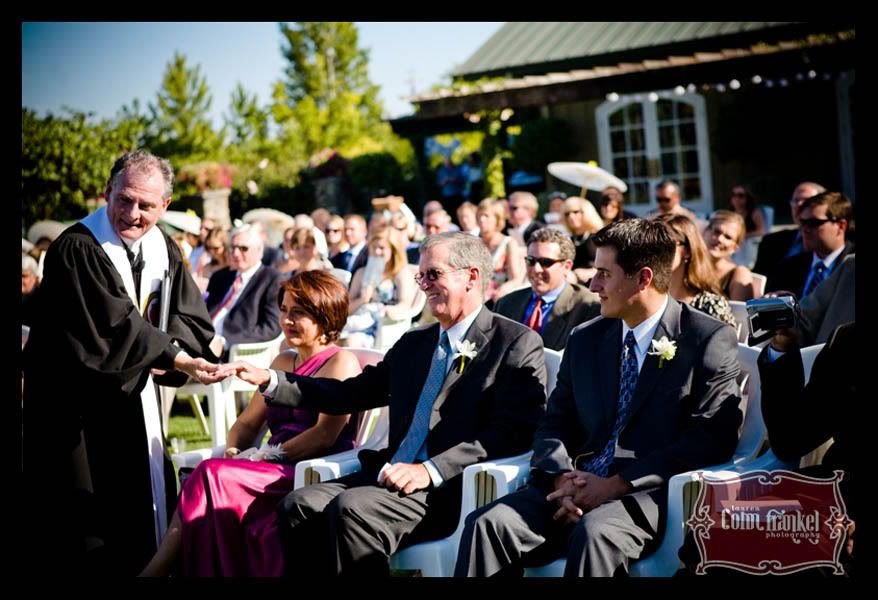 One unique thing about the ceremony was when Rev. Dalton had Ann and Drew's parents and grandparents each bless the rings individually, infusing them with their love and support for their marriage.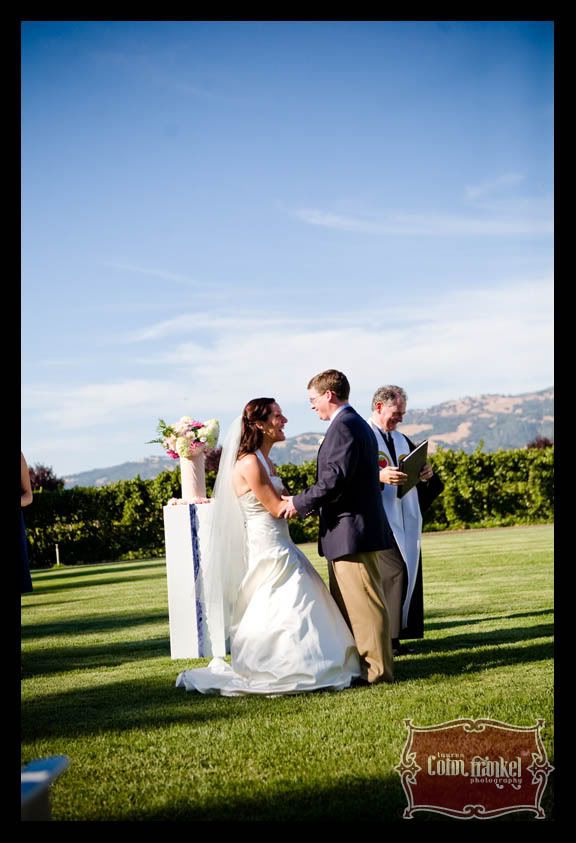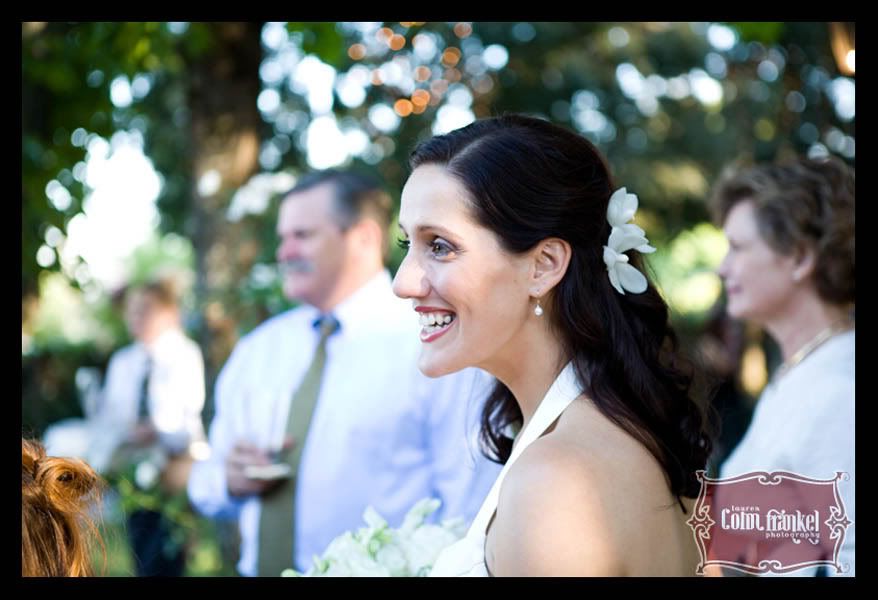 My good friend Laura Miller of Laura Miller Design did the flowers and she really hit it out of the park. The bouquets were feminine and beautiful and the table settings were colorful, chic, and made the huge, high ceilinged banquet room feel warm and personal. The wedding colors were navy blue and pale pink and the guys wore navy jackets and khakis.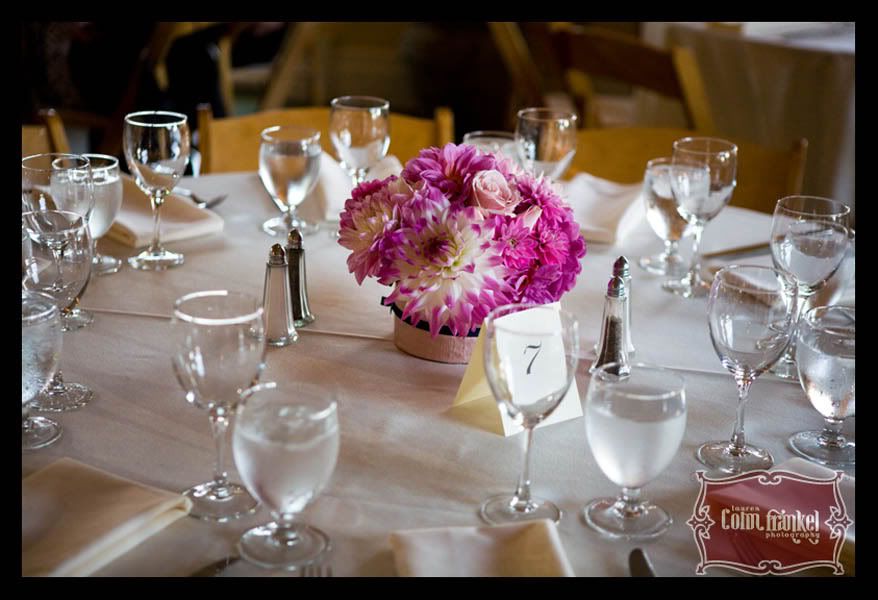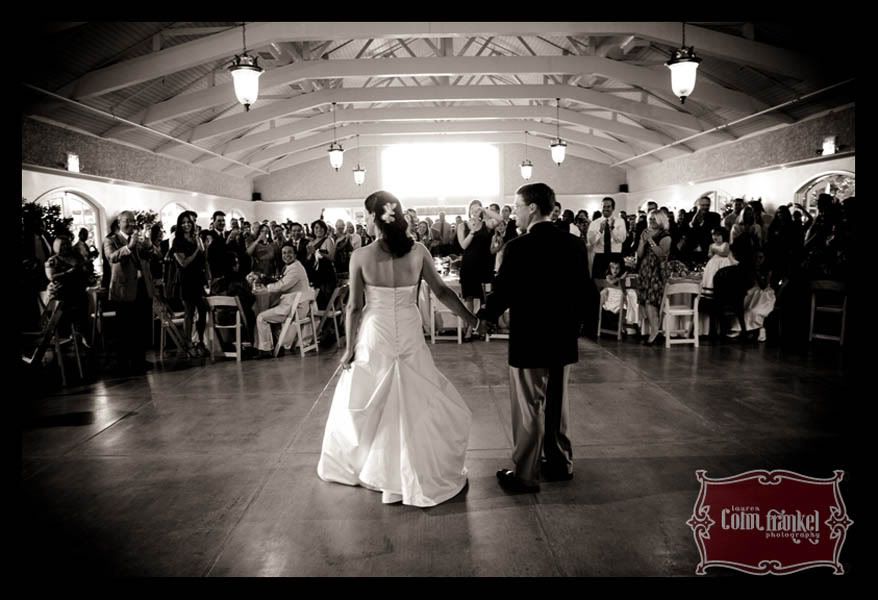 I am falling back in love with lens flare--the interesting, unpredictable effect you can get from shooting directly into a light source (in this case my off camera flash, but also works with the sun esp. when it is low in the sky like just after sunrise or before sunset). In this image the flare is subtle but you can see it as the slight texture overlaying Ann's hair and the top part of the image. Here is a better example of flare from this wedding (the rainbow lines and green circle above the couple):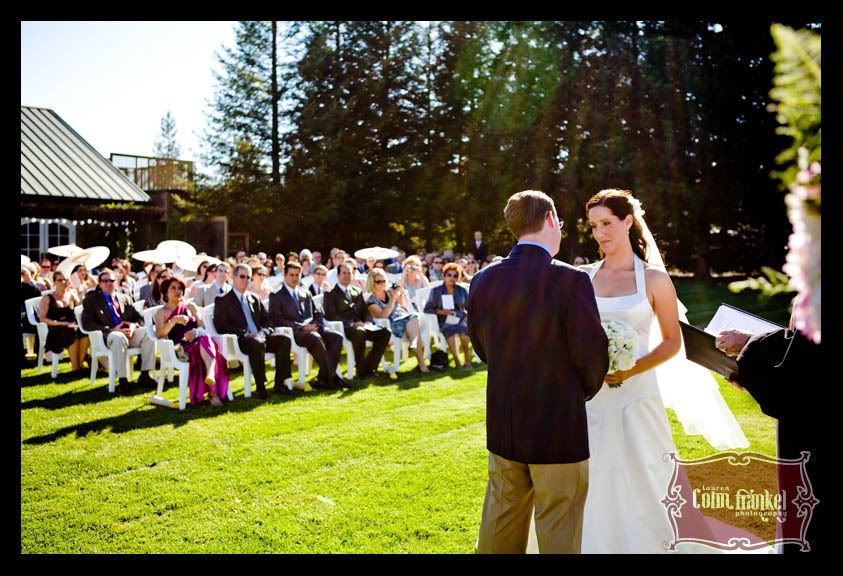 Flare is caused by light bouncing around in the body of the lens between the glass elements inside it, and like many artistic techniques it takes some playing-with to get what you are looking for...it is also something you don't want to overuse. I like the ethereal look it gives to photos of the couple alone or during private moments, like kissing shots... like a visual reference to the "fireworks" produced by a great kiss.

This is one case where as a photographer you gotta spend the money--the quality of the lens (and the glass inside it, the way it renders light and color) has everything to do with the way lens flare will look in photos taken with that lens, and different lenses produce different flare effects. Top of the line pro lenses like the Canon L series lenses produce the best flare because they have the clearest, largest, highest quality glass inside them. Prime lenses especially (fixed length lenses like the 85mm f1.2L, as opposed to zooms like the 24-70mm f2.8L) are known to produce awesome flare.

Of course any pro photographer will tell you that you are much better off spending your money on top of the line lenses than dropping $5000 on the latest camera body. Bodies come and go and are obsolete in a year, but good glass can last a lifetime, and all the megapixels in your shiny new camera's sensor will do nothing for you if the images you capture have to pass through a cheap kit lens first...

Ok, school's over. Back to the wedding.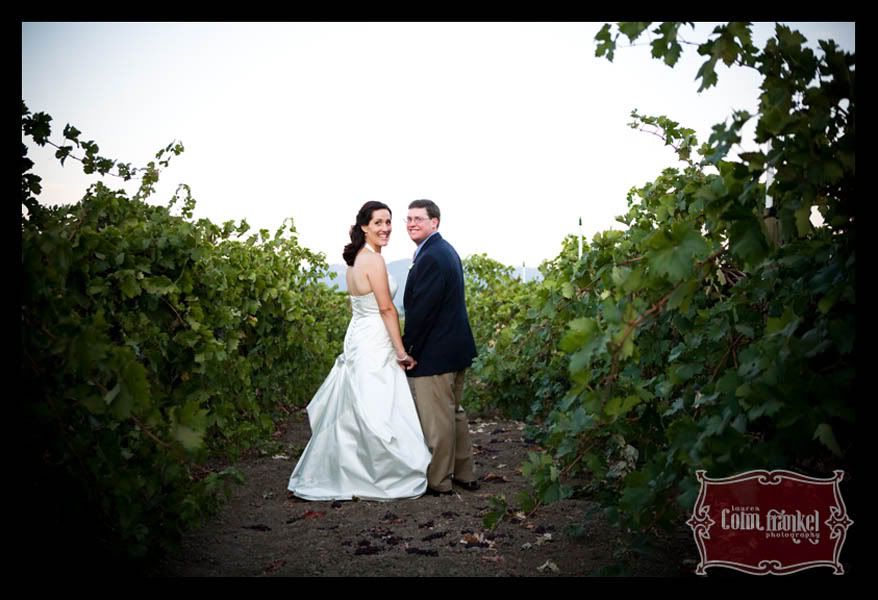 Trentadue has some amazing grounds to shoot in, including rows of vineyards, stands of trees, huge pine trees diffusing the sun into golden shafts of light and train tracks that pass right through the entrance to the property. All those awesome converging lines going off into the distance make for one very happy photographer.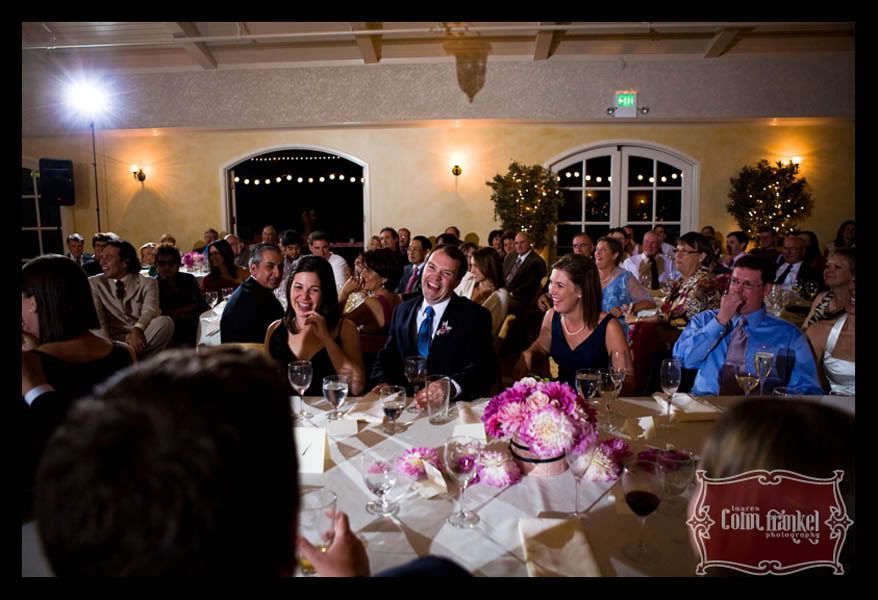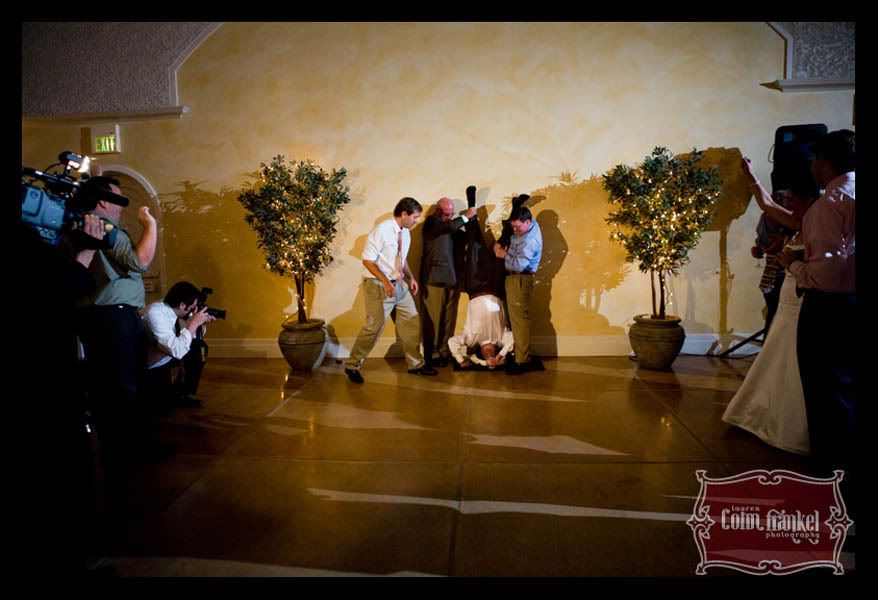 This one deserves an explanation. During MOH Shonda's toast, she mentioned how at a family event years back, when Ann and Drew's relationship was just getting started, she had been told that Drew's dad, Andrew Elliot, was capable of chugging a beer while standing on his head. She asked Mr. Elliot to demonstrate at the time and he declined, but placated her by saying "on Ann and Drew's wedding day, I'll do it". Well, now that day had come, and Mr. Elliot was being called out...And he did not disappoint.

This is one of those moments where you can't believe you're getting paid to do this.




3 cheers to Ann and Drew for actually spending time dancing at their own wedding! ;)

And OMG the food was amazing. Trends catering did an incredible job, the cocktail hour appetizers alone were the best--I'm still dreaming about this cheese spread they had with nuts and dried fruit in it--and dinner was fabulous. When I first met Ann and Drew they told me they were not having a wedding cake because they really weren't into desserts and sweet stuff--instead they would be serving some individual desserts for the guests. Well, if this is the kind of spread put on by a couple who "aren't into sweets", I think I'd be scared to see what it would look like if they WERE.




Mmm...rings and bokeh!

Vendors:

Trentadue

flowers
Laura Miller Design

dj
Scott Grothe
That's Entertainment

officiant
Rev Peadar Dalton

caterer
Trends Catering

videographer
Thomas Hughes

bridal boutique
Glamour Closet, San Francisco

makeup/hair
Tami Maytum
Indulge Salon
(925) 933-2220