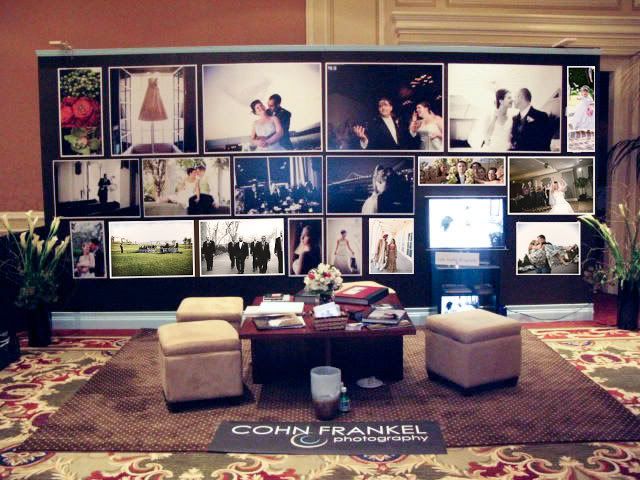 On Sunday Jan 6th, I participated in the Modern Bridal show at the Ritz Carlton San Francisco...and had a fabulous time! A lot of thought and effort went into my booth, and I was really happy with the amount of attention it got from both exhibitors and brides. The show admission included champagne and lots of yummy cake and food to sample...although I really didn't have time to eat any of it myself as we were about 6-8 people deep for most of the show. However I had a chance to talk to about 80 couples in depth, which I really enjoyed; it was fun hearing so many varied stories and wedding plans and I enjoyed hearing all the nice things people had to say about my work.

My booth was about 3-4 months in the planning; I had the two back walls made custom for me by my carpenter Aaron, who also set up and broke down the booth for me and that alone proved to be more than worth what I spent to hire him...I definitely couldn't have done it without him. The walls were made from 4x8' wood boards, painted chocolate brown, with crown molding painted blue along the top and bottom. They were held up by wood braces in the shape of a sideways "A".

Large prints were purchased from my pro lab, mounted on styrene board and mounted on the wall using velcro (so they could be easily removed). Florist Laurel Winzler, who worked with me on Tammy and Jamey's wedding at the Ferry Building last October, did my flowers: she did an incredible job even though she came down with the flu the week before the show! Laurel really came through for me, and her flowers were beautiful. And fellow photographer/part time second shooter Nick Lostracco made himself available at the last minute to assist me with set up and talking to brides at the show, after the girl who I originally planned to hire had to cancel due to the storm.

Probably the most talked about part of my booth were the little goodie bags I made up to give all the brides, which contained a mini-album, a few prints, a brochure, a personalized letter, and a few gifts to thank them for taking the time to come out and see me. Brides went crazy over the cute, tiny mini albums, as well as the other gift in the bag including homemade caramels, handmade mocha candles and blueberry lip gloss, and chocolate scented soap. I picked all the gift items so they would go with my branding and colors (chocolate and blue), and I found all of them from a wonderful site called Etsy.com.

I was first turned onto Etsy by another photographer. Etsy is basically a community of artisan businesses, whose products are all handmade and most of whom use all natural, earth-friendly, and/or upcycled materials for some or all of their creations. It's a great place to find things like handmade stationery, exquisite bath and beauty products, and all kinds of yummy food and gifts. Plus you can feel good about buying from them, as the people who advertise on etsy are almost always small, highly ethical businesses.

In addition to talking to brides, I also collected names at the show for a Free Engagement Session drawing I held earlier this week. I'm happy to announce that the drawing has been made and we do have a winner... now I'm just waiting to hear back from her to make sure she is able to accept the prize. I'll post her name and pictures from the E session soon!

For everyone else who entered, thank you SO much for your interest in my work. It was wonderful meeting you on Sunday, and I am so looking forward to your weddings! I encourage everyone whose wedding date is this year to contact me ASAP, so we can take the next step and make sure to secure my availability for your date!

Finally, although I wasn't able to get my sample in time for the show, I am very excited to be rolling out my new Couture Book wedding albums in the next couple week for this year's wedding clients. I should be receiving my sample book any day now, and as soon as I do I'll take pictures and post a complete description. For now, let's just say that I think these books are going to represent something truly unique and different among Bay Area photogaphers, and that the clients who get them should plan to be the envy of all their friends!